In this life affirming black comedy, a soprano attempts to survive to the end of an opera. Consequently, a smorgasbord of 'operatic occupational hazards' are explored in an alphabetical romp through Grande Opera, from 'A for Avalanche' to 'S for Suicide'. If she got to 'Z' it wouldn't be opera!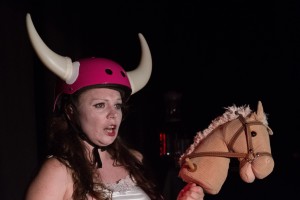 Isabel Hertaeg's DEATH BY SOPRANO
Isabel Hertaeg has a dream to be an operatic soprano, however she's concerned that they die in many horrific ways. In order to avoid the same plight she catalogues these fatalities.
In her review for Theatrepress titled Daring diva with a killer voice, Christine Moffet says "Hertaeg has serious soprano-envy, and this is a very good thing.  As a result, we were treated to a fabulous array of soprano deaths."
After entering as Ophelia, Hertaeg offers and alphabetical list of ways in which sopranos die.
In Moffet's review she says that "If it had gone wrong, this show could have turned into one big highbrow in-joke, with opera aficionados tittering away whilst the common folk looked on confused.  Instead, it turned out to be an intelligent concept, wrapped in a delightfully dark show, and decorated with Hertaeg's wonderful voice."
Christine Moffet's full review can be found here.
http://theatrepress.com.au/2013/03/21/review-isabel-hertaegs-death-by-soprano/
Review from Rip It Up
Feb 26 2013
Death By Soprano
The Promethean, Sun Feb 24
Even if the only sopranos you are accustomed to come in a DVD box set from the video store, you will find Death By Soprano very accessible and laugh-out-loud enjoyable. Isabel Hertaeg has visited Adelaide before, performing La Petite Mort (The Little Death, a French euphemism for an orgasm) at the Cabaret Festival.
Stepping up from the little death to the whole shebang, she presents an A-Z of ways in which a soprano can die in the opera, whether it's by avalanche, poison or suicide. With song, re-enactments and a little fake blood, accompanied by the amazing Amy Abler on piano, Hertaeg masterfully charms her audience, leaving them spellbound and wanting more.
I've seen quite a bit of opera in my time, but this is the first time I've seen a soprano in a crash helmet! Better be quick, this should sell out and only a couple of shows remain!
Final Word: Mortalicious.
Carl Cranstone

Review from Adelaide Theatre Guide
Feb 25 2013
DEATH BY SOPRANO
Review by Kylie Pedler
Interested in Opera but not sure you could sit through several hours of a foreign language? Then this is the show for you!
Isabel Hertaeg's original show, "Death by Soprano", is an A-Z guide to operatic soprano death scenes (well only as far as the letter 'S' because anything not mentioned by then is covered by suicide). With the best soprano solos, changing billboard—to translate each opera, anecdotal banter, comical props and costume accessories, Hertaeg entertains and informs her audience about famous operas. And all within sixty minutes!
Talented and versatile, Hertaeg uses her interludes, environment and minor costume malfunctions to comical effect.
Accompanied by talented piano diva, Amy Abler, her voice is powerful and endearing. Early in the piece, Hertaeg expresses her childhood aspiration to be an operatic soprano. She may still have to dress herself and wipe up her own fake blood but at The Promethean on her opening night in Adelaide she received the big applause she has always longed for in recognition of her vocal prowess.
An operatic prima donna character may not have a long life (dying before the end of the evening) but this is one Soprano who has a long career ahead.
Rating: 4 stars (out of 5)