The Nati Frinj takes a lot of work. It is often underfunded so most of this work is done by volunteers with only a limited number of poorly paid positions. After each Frinj, this small of people are generally tired and worn out. It takes a full year before anyone can face the task of suggesting ideas and fund-raising. Thankfully it is a biennale.
This is particularly difficult on those artists involved in the big projects. They work for long hours leading up to the Frinj weekend and often don't get to see many events. As Greg Pritchard once said, "You can create the coolest art festival on the planet, or you can be an audience for it, but you can't do both.
In 2009 we decided to have a smaller festival, with no big gig. We received money from Arts Victoria for Programming, Community Partnerships, and Festivals Australia.
Arts Victoria funded shadow artist Lynne Kent to come to town to work with a variety of groups and artists. Festivals Australia funded the beautiful Lantunda project by Mary French, Doug Hockley and Carolynne Hamdorff which turned the town's historic rotunda into a magic lantern.
The Hay and Thespian Mardi Gras went ahead despite a huge thunderstorm just prior to it. The striking stilt walking six-breasted Anna Loewendahl led the parade.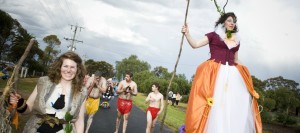 The storms continued into the evening and the town lost power. Events such as Japanese Theatre Gumbo were saved by farmer's generators, but some musical events could not precede. Enterprising artists went acoustic, standing on the back of utes and playing. Artist Greg Pritchard, had created haiku lanterns, and spent the day stressing that they would be destroyed by rain. With the power out they were the only lighting in town.
Sharon Huebner, a Melbourne based artist who grew up in the Mallee turned an entire house into an installation, with soundscapes by David Chisholm. Her 'Feet of Clay' was one highlight of the Frinj that year, as was Jacob Lehrer and Dave Corbet's gaolhouse residency. The dance party by Kat Pengully had a halloween theme, and Geoff Ragliss and his band played the Bowls Club and the town danced itself silly.