Frinj Trim 2023
Saturday 4 November
8pm-11pm
Soldiers Memorial Hall,
101 Main Street Natimuk
Free, all welcome
The Frinj Trim Evening Event is a creative taster to celebrate some of the art and performance practices in Natimuk through a selection of their recent work or works in development and on-going practices.This year's event includes recent digital projections by Dave Jones, a showing of contemporary circus skills and community workshop by duo No Mi and Dawa of Wobbly Spoon,a light and shadow installation by Mary French and a double bass and guitar duo music performance by Stu Mathieson and Fuddy Jackson.
Drinks available at the Grist bar.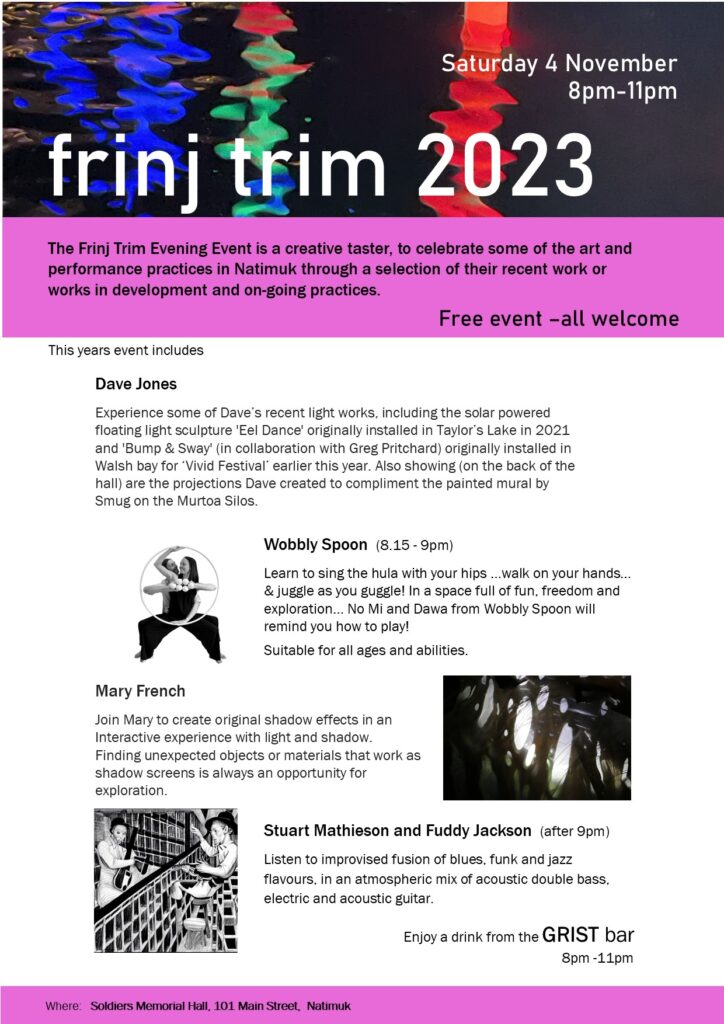 ABOUT THE ARTISTS:
Mary French
Mary French, has been a practicing visual artist for more than 30 years, through small and large sculptures, installation and through amazing light and shadow works.
For Mary, nature has a way of producing the most interesting shadow effects. Curiosity about shadow in the landscape either hidden or revealed, drives her interest in searching for sometimes subtle, often dramatic changes in light.
Dave Jones
Dave Jones, has been a practicing artist in the fields of animation/projection, sculpture, and installation art for more than 20 years, winning awards for his work both nationally and internationally.
Wobbly Spoon
Established in 2012 as a contemporary circus duo, No Mi and Dawa have taken their art form through Europe, Asia and back to Australia, with each stop along the way adding new flavours and flourishes to their bag of tricks! Based in Natimuk, they now run  Circus Jam as part of ACT Nati's offerings.
Stuart Mathieson and Fuddy Jackson
Stu and Fuddy have been playing together sporadically for the past 20 years in Natimuk. More recently they have been working on new material and refining some older classics –Tom Waits, Bowie and a whole heap of moods and flavours.