Reconciliation Week event
The Creative Voice/Creative Generations event held Sunday 4th June as part of Reconciliation Week was a great opportunity to hear from the creative voices of a number of local Traditional Owners and First Nations artists.
MC for the night, ACT Chair D'Arcy Molan, introduced the audience to the program for the evening. The ACT Natimuk Reconciliation Action Plan (RAP) was officially launched with Wotjobaluk/Gunaikurnai artist Thomas Marks, who designed the artwork for the document, speaking a little about his history, his creative practice and the inspiration behind the artwork he created. Wotjobaluk Graphic designer Myrtle Jeffs who brought the document to life, was unable to attend. We extend our many thanks to both Thomas and Myrtle for the amazing work they did.
Verity Higgins, Producer for ACT Natimuk's Creative Lab program then launched a new First Nations creative opportunity.
Gail Harradine (Wotjobaluk/Djubagalk/Jadawadjali) spoke about her practice as an artist and her history as a creative before introducing Aunty Annie Nikkelson (Wotjobaluk/Wemba Wemba) who gave us an insight into her art and her journey there.
The audience was then treated to a showing of work from six local First Nations artists not only inside the hall itself but outside on the walls of the building under a clear night sky.
There was much conversation and connection between artists and audience all whilst partaking of hot soup, snacks and mulled wine in the supper room.
There was such a great turnout and a warm and open vibe between everyone.
This was ACT Natimuk's first project partnering with the Gariwerd Wimmera Reconciliation Network(GWRN) and immense thanks must go to them for supporting and helping with the event. We look forward to more projects together.
ACT Natimuk's RAP event officer, Jillian Pearce produced the Creative Voice/Creative Generations with such attention to detail, supported by D'Arcy Molan and Tracey Skinner. And Dave Jones who did his magic work putting the artwork images into a projection slideshow.
Thank you as always to the team of volunteers who rocked up and did the set up and packdown work seamlessly.
The biggest thanks must go to the artists and speakers of the evening who shared their stories, their artwork, their voices.
As a reconciliation led organization, ACT Natimuk continues it's journey of listening and learning and we are so pleased that this journey can be shared with others in the community.
Aunty Annie Nikkelson (Wotjobaluk/Wemba Wemba)
– A.A. Nikkelson Gallery & Gifts
Gail Harradine (Wotjobaluk/Djubagalk/Jadawadjali)
– supported by Wurega Aboriginal Corporation
Tanisha Lovett (Gunditjmara/Wotjobaluk)
– Merindah Koori Art
Yama Harradine (Wotjobaluk/Djubagalk/Wergaia)
Thomas Marks (Wotjobaluk/Gunaikurnai)
– supported by The Torch
Tiffany Alyce Retallick (Wotjobaluk)
– Indigo Fox Photography
Funding for the event was provided by ACT Natimuk, Reconciliation Victoria and Barengi Gadjin Land council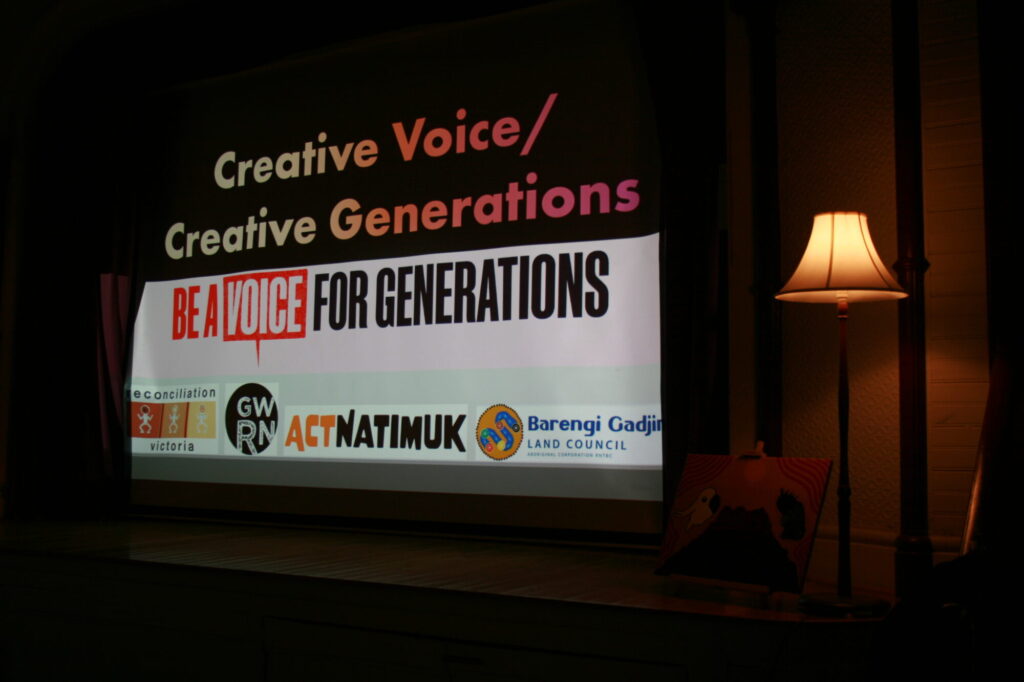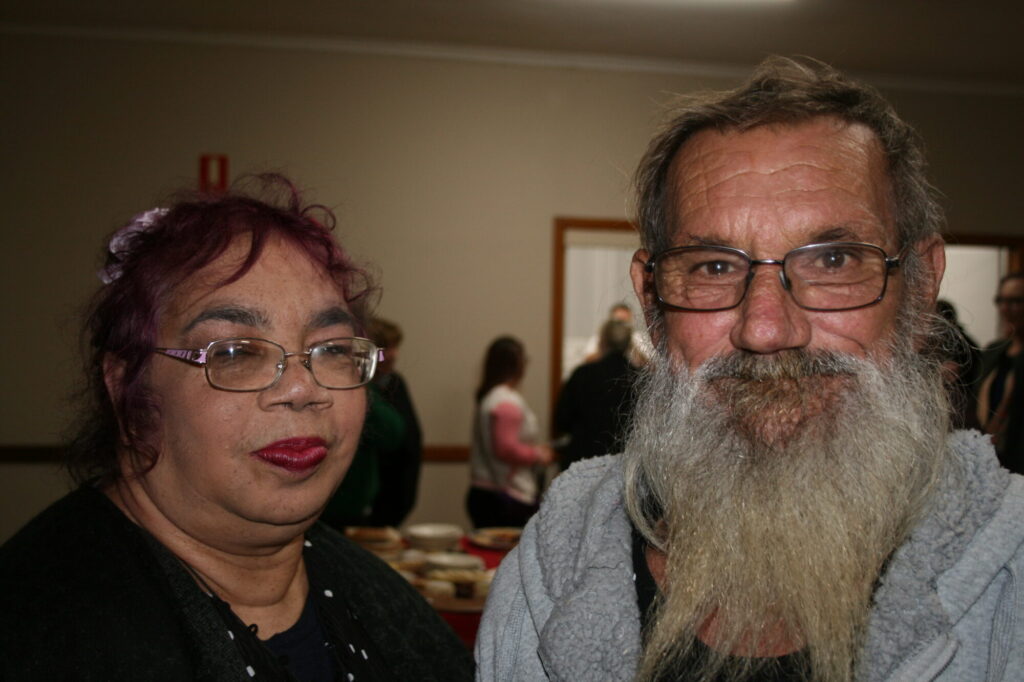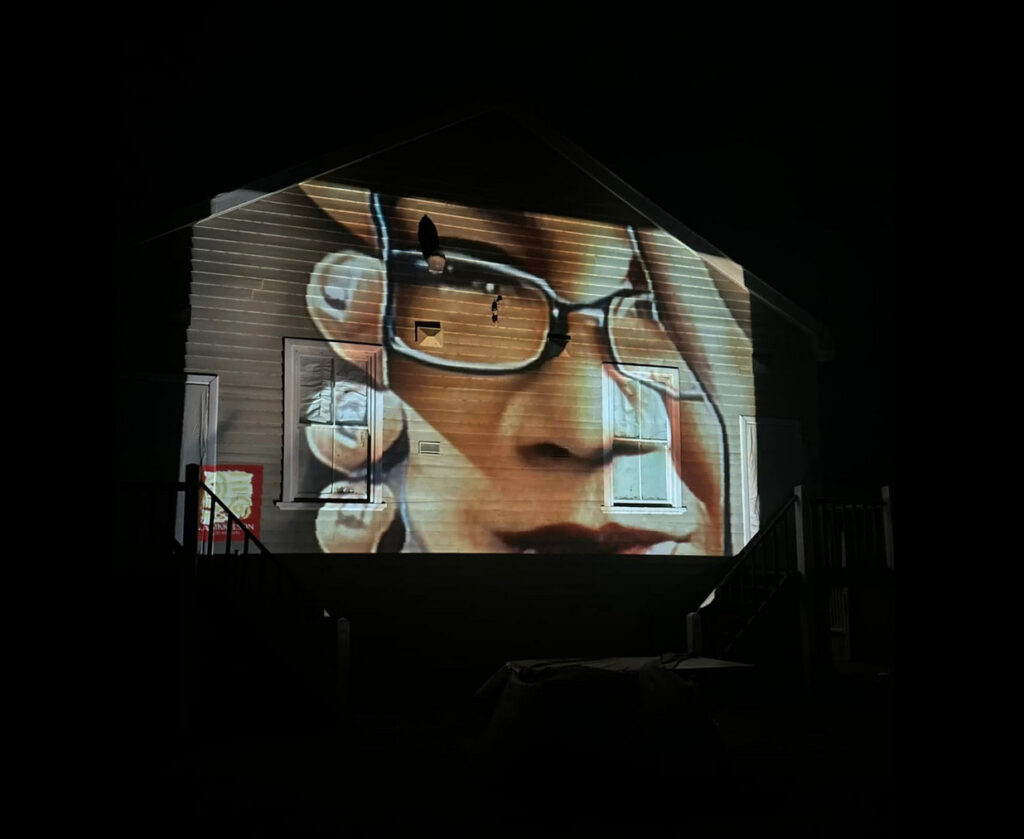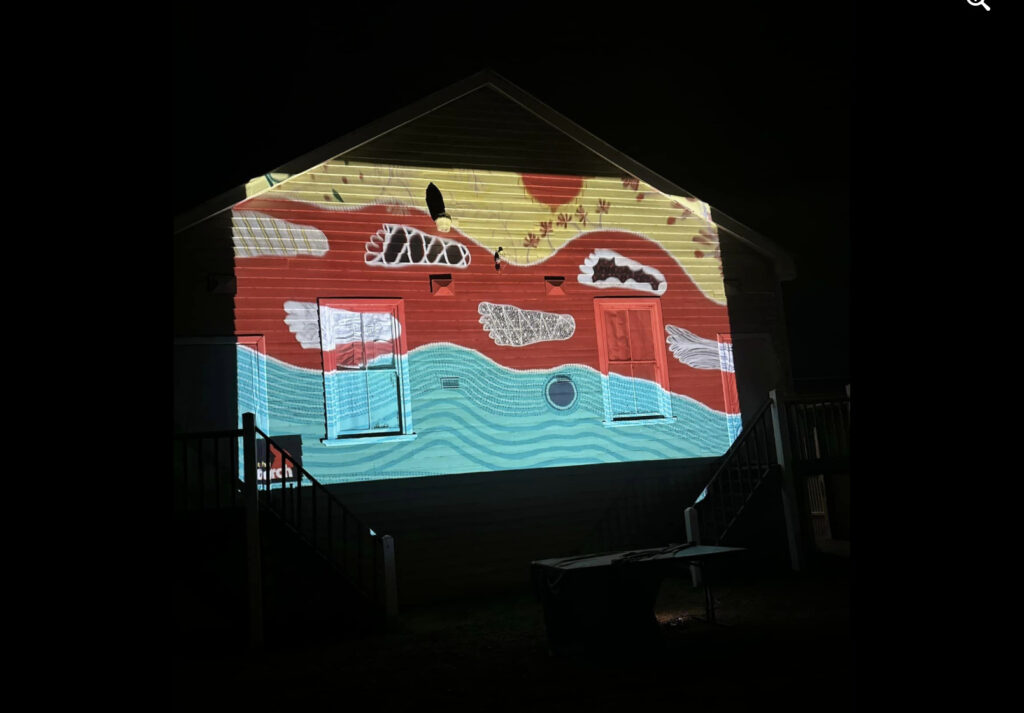 Inside event photographs: Andy Lambrogiotas
Projection images: Tanisha Lovett